Welcome to the Bing wiki
Bing is a children's tv programme following the adventures of Bing (character), a rabbit, and his friends. it is based on books by Ted Dewan and produced by Acamar Films, in association with Brown Bag Films and Tandem Ltd. It airs regularly on the UK TV channel CBeebies. The series centers on a cheerful pre-school bunny named Bing each episode involves him learning how to cope with new experiences such as playing nicely and imaginatively, caring for toys, handling tantrums and making the best of a negative situation.
Latest activity
Edit
Photos and videos are a great way to add visuals to your wiki. Find videos about your topic by exploring Wikia's Video Library.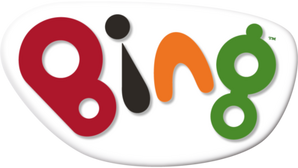 Ad blocker interference detected!
Wikia is a free-to-use site that makes money from advertising. We have a modified experience for viewers using ad blockers

Wikia is not accessible if you've made further modifications. Remove the custom ad blocker rule(s) and the page will load as expected.